Video conferencing is a must-have tool right now. ZOOM calls have become an even more widespread communication channel than face-to-face meetings or phone conversations. Whether it is liaising with coworkers or negotiating with partners, video conferencing is the easiest way to stay connected.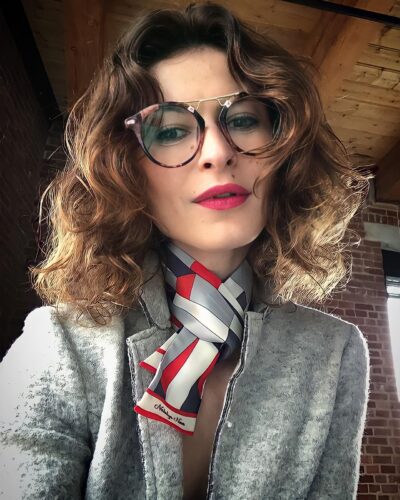 With the desperate busyness of modern women, they always lack time to invent a classy and professional look. However, this thing cannot be underestimated. An elegant appearance is the basis of women's self-confidence. When you are dressed well, you feel powerful and comfortable.
Thanks to Nataliya Nova luxury accessories, you won't have to puzzle over crafting an unbeatable look for ZOOM-meeting. A bright silk scarf or twilly will accentuate your charms and create an exclusive and classy outfit in less than 5 minutes.
Just the thing for a ZOOM-meeting, Nataliya Nova's silk scarf highlights the overall appearance, attracts attention to your face, and makes your look catchy. A stylish scarf made of high-quality fabric creates an elegant and professional look. Explore capsule collections of silk scarves by Nataliya Nova and choose your ideal item. Twilly scarves are versatile accessories, and you can wear any of them in various ways:
drape a scarf over your shoulders
loop it around your neck like a regular scarf
try it on instead of a tie
tie it around your arm as a bracelet
use it instead of a headband
weave the scarf into your hairstyle
wrap it over your waist or hips instead of a belt
In this way, you can create a dozen crisp looks in less than 5 minutes, using just one accessory.
How to choose the right accessory?
Have you ever noticed that accessories of different color combinations can either emphasize your natural beauty or interfere with it? The key is your color type. Depending on the degree of contrast and warmth, experts distinguish four color types: summer, spring, autumn, and winter.
The summer type features light brown hair, gray eyes, and light skin. Cold shades and complex colors are the best for summer representatives. Too-bright hues interrupt their natural color palette. So, use them sparingly as a spicy accent.
Warm, honey skin shades, light eyes, and thick blond hair prevail in spring girls. They should opt for lighter tones of pink (fuchsia, salmon) and green (mint, turquoise, and emerald), which can emphasize the natural beauty of spring.
The appearance of an autumn girl sparkles with a yellow-red color scheme. She has thick brown or reddish hair and expressive brown or amber eyes. Shades similar to the color type are best suited for her, for example, earthy and cherry hues. Use warm greens for contrast, from khaki to bottle green.
Winter is a cold and contrasting type. The skin of such girls is light and clear, unlike their dark and rich eyes and hair. Sophisticated and bright colors, such as plum, emerald, wine, or ruby, are the best for winter ladies.
The accessories by Nataliya Nova were created with the color types in mind. Each scarf or twilly collection is thoroughly designed to chime with the natural features of all the types.
Final Tips
Follow the tips below to look perfect at a ZOOM meeting:
Do not be too casual. However, the video format doesn't require you to look formal. Add some signature items to feel confident and relaxed.
Style your hair in a tested way that looks best on you.
Adjust the light. Locate your laptop near natural light sources that are not pointed to your face.
Make eye contact with an interlocutor. Try to look directly at your webcam.